Discover new ways to move your skeleton with Smile Vintage. Did you know what Roller Dance is?
Leaving behind the days of knee pads, when you ended up braking as best you could and passed more as a nature lover (kissing the ground and hugging the occasional tree), roller skating is not easy; it requires a lot of skill, balance, strength and concentration. Add to this the dancing and you have a hypnotic combination that is only for the brave!
However, as anything that takes hard work pays off, the truth is that, if practised well, the result is a dance that is light and so lively that it is almost impossible to watch it without wanting to get on a pair of roller skates!
What is roller dance and what does it consist of?
Roller dance is a sporting discipline or form of roller skating that combines the disciplines of artistic roller skating with urban dance. It is so distinctive because it favours quad or 4-wheeled retro-style skates over inline skates.
It can be practised individually or in groups and both outdoors and indoors (as long as they are equipped for it). In fact, nowadays, many gyms and dance clubs offer classes in this sport, which is becoming more and more popular.
Where did roller dance begin?
This discipline on wheels emerged in the 1980s and is strongly influenced by the disco music of the 1970s. It originated in the Great Lakes region, Florida and California, but became famous on the beaches of Venice Beach, LA, thanks to the street groups and urban tribes that met there.
Which came first, the boom in the streets or the boom in the cinema? It would be a lie if we said that roller dance went unnoticed, in fact it generated a great reciprocal influence in the cinema of the 80's with films like Roll Bounce.
What types of Roller Dance are there and who practices it?
People are really into this retro vibe and we understand why. Did you know that there are several styles of roller figure skating?
Roller disco. Incorporates moves more in the style of disco and retro music from the 70s and 80s.
Random or freestyle. Combines moves from all disciplines to give you a show like you've never seen before.
B-boying. More typical of breakdancing, this style of roller dance performs the sudden and impossible movements of breakdancing on skates.
These profiles became famous for their mastery of skate technique and their retro personality, which made us so happy!
This skater from Berlin of Senegalese origin brought back – luckily for retro lovers – the disco of the 70s and the vibes of the 80s with this discipline. Her movements are so light that it's like she's floating!
As well as being one of the most influential rollers on Instagram, she teaches classes for the lucky students of Paradise Studio in Los Angeles.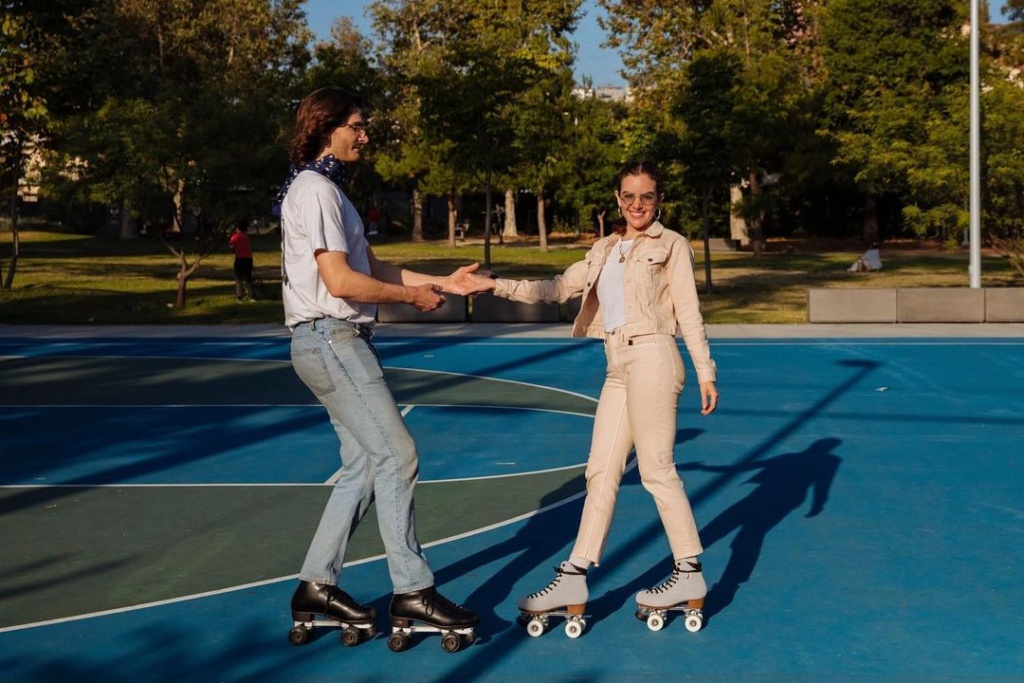 Also from the LA school, this girl is breaking out with her 80s and 90s retro pop vibe. She has done collaborations with brands and is involved in several amazing roller shows.
If this sport has you too, you should know that skating clubs are all the rage, and many places offer classes and exhibitions of this sport.
What are the advantages of Roller Dance?
Much more than just a dance, roller dance has many benefits:
Train while having fun. Exercising on roller skates can be a lot of fun, but you will also be working almost every muscle group.
It helps you concentrate in a healthy way. To perform those movements that from the outside seem easy and look so light, you need to maintain perfect balance, which requires maximum concentration and coordination.
A powerful stress reliever. Dancing releases tension, lowers cortisol and raises the happiness hormone, so it may be the key to happiness for many.
It burns calories to the max. Without even realising the effort, your body will burn fat thanks to the aerobic and anaerobic exercise you'll be doing to keep up with the music.
Build community. Roller dance has many fans, more and more people practice it as it is very fashionable and you can meet people with the same passions as you. Can you imagine having your own roller gang?
And what do you think, smile lover? Come on and roll with us 😉